On Wiring Modular Telephone Connectors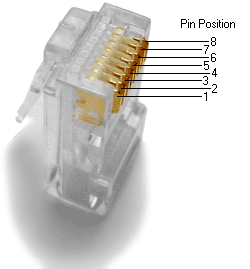 8P8C plug connector and its pin position numbers
The modular connectors commonly used today for telephony and twisted-pair Ethernet data communication are types of insulation-displacement connectors often associated with the A.T.&T. Bell System Universal Service Ordering Code (USOC) registered jack (R.J.) configurations for which they are used.
Having four, six or eight contact positions, these connectors accommodate from two to four twisted pairs of wires. The six-position bodies may be populated with two, four or six contacts. The most common varieties include:
Common Types of

A.T.&T.

USOC Modular Registered Jacks
#
positions,
contacts
application
RJ9
4P4C
telephone handsets
RJ11
6P2C
1-line telephone
RJ14
6P4C
2-line telephone
RJ25
6P6C
3-line telephone
RJ45
8P8C
twisted-pair

Ethernet

RJ48
8P8C
T1, ISDN
RJ50
10P10C
(proprietary)
RJ61
8P8C
4-line telephone
When assembling cables using these connectors, wires are inserted into the connectors with their insulators intact; the connectors are then crimped (squeezed inside a tool), causing each contact to pierce the insulation of its wire and causing a strain relief to secure the cable's exterior sheath. Using the colors of their insulators, wires are matched with contacts in the orders listed in the table below. (When holding the connector facing the cable side with the retaining tab facing the floor, position 1 will be on the left side, as illustrated.)
Common

A.T.&T.

USOC Modular Registered Jack Wiring Configurations
4 positions (4P4C)
6 positions
8 positions (8P8C)
RJ9 *
RJ11
(6P2C)
RJ14
(6P4C)
RJ25
(6P6C)
color †
pin
RJ45 *
RJ61
obs.
(old)
current
(new)
T568A (obsolete)
T568B
pin: pair pole: color
position: pair pole
pair pole: color
1
3 tip: /green ‡

2 tip: /orange ‡

4 tip: /brown

none
none
1: 3 tip
orange

/green

2
3 ring: green/ ‡

2 ring: orange/ ‡

3 tip: /green

1: 2 tip: black

none
2: 2 tip
2: 2 tip
black

/orange

3
2 tip: /orange ‡

3 tip: /green ‡

2 tip: /orange

2: 1 ring: red

3: 1 ring
3: 1 ring
3: 1 ring
red

blue/

4
1 ring: blue/

1 ring: blue/

1 ring: blue/

3: 1 tip: green

4: 1 tip
4: 1 tip
4: 1 tip
green

/blue

5
1 tip: /blue

1 tip: /blue

1 tip: /blue

4: 2 ring: yellow

none
5: 2 ring
5: 2 ring
yellow

orange/

6
2 ring: orange/ ‡

3 ring: green/ ‡

2 ring: orange/

none
none
6: 3 ring
blue

green/

7
4 tip /brown

4 tip /brown

3 ring green/

8
4 ring brown/

4 ring brown/

4 ring brown/

* RJ9 and RJ45 are not registered jacks for customer interfaces
† RJ11 and RJ14 use the same colors as RJ25, but fewer pairs
‡ 10-base-T and 100-base-TX twisted-pair Ethernet use only pairs on pins 1 and 2 (for "transmit across", TX) and 3 and 6 (for "receive across", RX) pairs
Cable Handling and Storage
Use care when pulling cables with these small connectors, as their retention and release tabs will snag and break easily. To avoid tangling stored cables, I coil and stored them in resealable transparent plastic bags.
Flush Wall Plate Orientations
According to a former Pacific Bell engineering vice president (and former neighbor of mine), flush wall-mounted modular telephone connectors (such as RJ11W) were intended to be mounted with the release tab on top so that field technicians could – with the aid of an instrument such as a ruler – release connectors from behind desks or other furniture. It is now common practice to orient these connectors with the release tab on the bottom and contacts on top, apparently to protect the contacts from deterioration due to environmental factors. (Similarly, it is now apparently common practice to mount three-conductor Edison power connectors with the ground pin at the top.)
Polarity: Origin of "Tip" and "Ring" Designations
The terms tip and ring refer to the electrical polarity associated with the parts of the quarter-inch diameter cylindrical tip ring-sleeve plugs used by telephone operators. For safety – because the the tip is most likely to touch something other than intended when a connector is handled – the tip is connected to the pair's wire nearest ground potential. To protect copper wires from corrosion caused by electrolysis, the ring's polarity was changed from positive to negative (nominally -48V).
An Ethernet crossover cable, for example, may be constructed by swaping the "transmit across" (TX) and "receive across" (RX) pairs at one end of a cable, but the same polarity must be maintained for each. (Note that crossover cables for 1000base-TX interfaces – "gigabit Ethernet" – must also swap pair 1 with pair 4, and that some 1000base-TX interfaces include automatic MDI/MDI-X configuration that therefore do not require crossover cables.)
See also the A.T.&T. Monopoly Bumper Sticker.